Please Donate
to Stop Teen Dating Violence
[#stopTDV]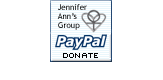 Please help Jennifer Ann's Group continue providing
free educational resources to stop teen dating violence
.
Jennifer Ann's Group is a 501(c)(3) non-profit charity and when you donate to us you get the benefit of a tax deduction for your generosity.
Reasons to donate to Jennifer Ann's Group
Schools lack the funds to teach students about abusive relationships.
We have distributed over 1,000,000+ free resources to schools and other groups in the U.S. and U.K.
We have produced over sixty serious video games about consent, healthy relationships, and teen dating violence which are revolutionizing how teens, parents, and schools approach these sensitive issues impacting young people.
Your donation will have a LARGE impact on our SMALL organization!
Please help us reach teens everywhere through a direct contribution right now. Ask your employer if they match donations!
And if you can't donate right now you can still help when you buy games or software from Humble!
---

Donate Online

Donate Bitcoins

Donate via Check

Jennifer Ann's Group
2554 Drew Valley Rd NE
Atlanta, GA 30319
Donate online through PayPal.


Some EU donors have had difficulty donating to us via PayPal. Please let us know if you have any problems.

Quick, easy, and anonymous donations through Bitcoin.
If you mail us a check there are zero processing fees and we use 100% of your donation to #stopTDV!

Additional info for tax purposes: EIN 20-4618499
IRS determination letter indicating our nonprofit status.

You can confirm our tax-exempt status on the IRS website:
Jennifer Ann Crecente Memorial Group, Inc. d/b/a Jennifer Ann's Group